BEAUTY THERAPIST MARBELLA
Judith Robinson. I.T.E.C. Hons. C.I.D.E.S.C.O. Sports Therapist. Aestheticienne. Aromatherapist. Reflexologist.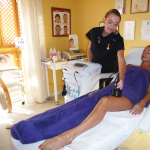 ULTRASOUND SLIMMING CAVITATION
"An incredible alternative to liposuction" • CLINICALLY PROVEN TO REDUCE FAT AND CELLULITE. • SKIN TIGHTENING – PRODUCES NEW COLLAGEN AND ELASTIN. • INSTANTLY AND PERMANENTLY REMOVES FAT CELLS.
Cavitation is body sculpting with no anesthesia, no scars, no discomfort, no down-time and presents a risk-free alternative to liposuction. The result is instant loss of fat cells.
TREATABLE AREAS Stomach – thighs – buttocks – man boobs – arms – kneesUltrasonic cavitation – the latest technology which uses ultrasound waves to destroy fat cells without undergoing invasive surgery. The ultrasonic cavitation treatment is suitable for males and females who want to get rid of stubborn fat accumulation NON surgically.
A NEW REVOLUTIONARY INCH LOSS TREATMENT
This is a very smart way to reduce fat cells. The machine works with ultrasound that form bubbles in the  tissue where fat cell is located. The bubbles expand to produce a sudden vibration which cau…ses the breakdown of the fat cell. The fat cells contain tryglycerides, these are destroyed through ultrasound and are then passed through the lymphatic system as diglycerides and are expelled via the urinary system.

IS IT SAFE? Ultrasound cavitation is a safe procedure with medically proven results

DOES IT HURT? There is NO pain with this treatment. The only sensation you will experience will be a slight warming of the skin and a high pitch ringing noise with the ultrasonic wave which immediately disappears when the probe is removed.

WHICH AREAS CAN BE TREATED? As it is the removal of stubborn fat deposits that never seems to disappear no matter of your diet or how hard you work out. Cavitation can be performed on the stomach (love handles) thighs (saddle bags) buttock, arms, knees and man boobs.
HOW MANY TREATMENTS ARE NEEDED? We recommend three treatments to drop a dress/trouser size. 72 hours must pass between each session so that the body can eliminate the fat.
WHAT LONG TERM RESULTS CAN I EXPECT? You can achieve 'volume reduction' of fatty tissues and 'toning of the body.
*PHOTOS BELOW SHOW RESULTS AFTER 4 SESSIONS*