BEAUTY THERAPIST MARBELLA




Judith Robinson. I.T.E.C. Hons. C.I.D.E.S.C.O. Sports Therapist. Aestheticienne. Aromatherapist. Reflexologist.
CACI NON SURGICAL FACELIFT
Microcurrent – Hydradermie – Microdermabrasion – Ultrasonic – Light therapy – E.C.M. – Faradic
MICROCURRENT
Micro-current stimulation delivers tiny electrical impulses that mirror the body´s own natural electrical field. In most cases, treatment is virtually sub-sensory, with just a slight electrical tingling sensation. Originally developed for treating facial palsy. As an aesthetic treatment micro-current stimulation has been shown to have a number of other cosmetic benefits. * re-educates muscles * increases blood and lymph circulation. * increases the production of collagen and elastin. * increases protein synthesis. Microcurrent in aesthetics is commonly described as "facial toning" or "non surgical facelifting"due to the dramatic effect that microcurrent has on facial muscles and contours. The stimulation works by a process called muscle re-education.
CACI JOWL LIFT
Included FREE with the CACI facials Firm and tone the jawline. The CACI Jowl Lift facial has been developed to specifically target muscle laxity around the jawline. The quad probes emit tiny electrical impulses to lift, firm and redefine facial contours. To maximise the firming effect, the quad probes are used in conjunction with unique serum filled cotton buds that contain a powerful skin firming formulation. The CACI Jowl Lift treatment is completely painless, although some clients may experience a slight tingling sensation or metallic taste, Which is perfectly normal. Visible results without surgery, anaesthetic or downtime. New quad probes deliver double the lifting effect
HYDRADERMIE
Hydradermie combines active current rollers with unique, electrically conductive gel that infuses a powerful hydrating properties. The rollers gently massage the face with the facial muscles restoring tone and firmness. The energy delivered by the rollers recharges and replenishes hydration. The gel has a dramatic softening action helping to plump out and smooth deep lines and wrinkles. Hydradermie technology is incorporated in the SUPER CACI TREATMENT.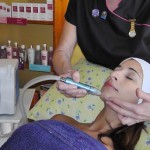 MICRODERMABRASION
As we age, the automatic exfoliation and cell renewal slows down. Sometimes the skin needs help. Microdermabrasion is a cosmetic procedure in which the dead outermost part of the skin is partially or completely removed by light abrasion. The removal of the dead cells reveals the softer more youthful looking skin cells underneath. The superficial abrasion of the skin also triggers the body´s own natural repair mecanism which aids production of new collagen.
ULTRASONIC
Ultrasonic peeling spatula vibrates at 27.000 vibrations per second on the skins surface. These rapid vibrations push skin impurities to the surface and cause any dead skin cells to be dislodged. The vibrations then deep cleanse and gently exfoliate the skins surface. Ultrasonic skin peeling provides a far greater and less aggressive alternative to traditional microdermabrasion methods of skin exfoliation.
L.E.D. LIGHT THERAPY
Light energy is in every nerve, cell, gland, and muscle of the body and each emits it´s own unique frequency vibration. Each colour wavelength of light has a unique frequency vibration. Each colour has a stimulatory action on the cells and can be used to effectively normalize cellular imbalances and treat certain skin conditions. NASA have recently conducted studies on the use of L.E.D. light for the enhancement of cell growth and found that application of specific wavelenghths of light increases fibroblast activity and enhanced DNA synthesis leading to the production of new collagen. Judith uses ALL these active L.E.D. colours and will recommend the correct one for you.
THE BODY TREATMENTS
The body treatments can be performed on their own or to compliment your facial.
ELECTRO CELLULITE MASSAGER
The electro cellulite massager uses 24 conductive rollers electrically charged with microcurrent. The rollers are designed to pivot to the body contours of each individual targeting specific problem areas such as stomach, buttocks, thighs etc. The stimulatory action of the Electro Cellulite Massager helps break down fatty deposits, tone muscles and reduce inches.
FARADIC
Faradic technology is a form of electrical stimulation that uses a higher intensity current than microcurrent, so is ideally suited for firming and toning body muscles. The current delivered through electrically conductive pads that are positioned over specific muscle groups and problem areas such as stomach, buttocks, thighs etc. As the current passes through the conductive pads it stimulates the motor points of the muscles triggering a visible muscle contraction. Judith will vary the intensity of the current between muscle contraction and muscle rest to suit your personal requirements and comfort.
Each treatment session provides a form of passive muscle exercise. A typical 20 minute stomach treatment is the equivalent of doing 300 perfect sit ups. Ask Judith to recommend the best combination of ALL the above treatments
A cancellation fee of 50% will be made if an appointment
is cancelled with less than 12 hours notice.