BEAUTY THERAPIST MARBELLA




Judith Robinson. I.T.E.C. Hons. C.I.D.E.S.C.O. Sports Therapist. Aestheticienne. Aromatherapist. Reflexologist.



CLINICAL, SPORTS DEEP TISSUE MASSAGE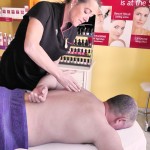 Treatments often entail "hands-on" manual techniques i.e. soft tissue and joint mobilisations. Judith has the most up-to-date electrotherapy equipment available including ultrasound, interferential, faradic, vibro massage and electric lymphatic drainage.
You don´t need to be an athlete to have sports massage. There are many benefits:- it helps prevent muscle and tendon injuries, stimulates circulation, calms nervous tension, relieves soreness and assists in the removal of waste products.
A sports, clinical massage uses the following techniques:- * Trigger Point Therapy, * Muscle Energy Techniques, * Position Release,* Strain Counter Strain, * Soft Tissue Release, *Mechnotherapy,* Cryotherapy, * Mobilisation techniques.
What does the treatment involve?
The most important part of any treatment is the DIAGNOSIS. Once we clearly understand what the problem is and what is causing it then we can find the most appropriate solution. Therefore the first step of any treatment program is a full and detailed clinical assessment by Judith to understand the root cause of the problem.
Clinical and Sports Massage can help a variety of conditions such as :- * Backache, * Sciatica, * Repetitive Strain Injury ( R.S.I. ) * Rotator cuff dysfunction, * Carpal tunnel syndrome, * Golfers elbow.
A cancellation fee of 50% will be made if an appointment
is cancelled with less than 12 hours notice.